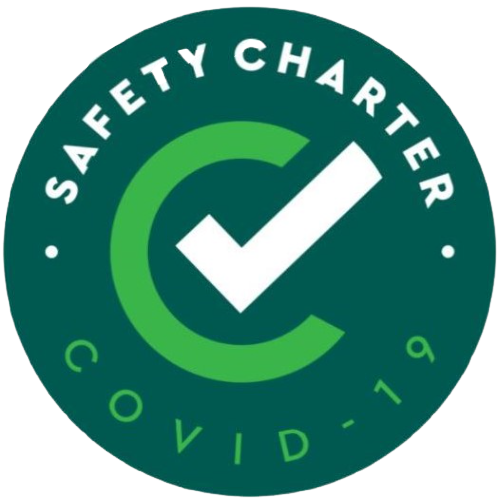 STAY SAFELY POLICY
As has always been the case, our team at The Glashaus Hotel have always maintained that a safe environment for our guests and team members is of utmost importance. In response to the Covid-19 pandemic we have been working to implement preparatory measures and guidance to assist our guests in mitigating the potential risks posed by the Coronavirus (Covid-19). We have put together an informative reference guide to offer reassurance and secure knowledge that we are taking every possible measure to ensure the Health, Safety and Wellbeing of our valued guests and customers is maintained at all times.
We will review regularly and update as the situation evolves, keeping policies and procedures relating to Covid-19 under constant review and updating accordingly. This information has been developed based on HSE and World Health Organisation guidelines and does not constitute legal advice and is purely for guidance and reference purposes.
· Enhanced Cleaning Protocols
· Social Distancing
· Sanitising Stations
· Disinfecting Mist
· Protective Screens at Reception
· A dedicated "Stay Safely" team and comprehensive staff training
· Daily team temperature checks and use of PPE
HYGIENE POLICIES & ENHANCED CLEANING PROTOCOLS
We ensure the highest levels of hygiene at our property as a general standard at the Glashaus Hotel, and in our actions against Covid-19 we have re-evaluated our policies and procedures and have increased cleaning measures across the property. We have implemented more in depth and frequent cleaning throughout the property, with hourly sanitisation of all identified common touchpoints across all public areas and will continue this process going forward. We have reviewed our cleaning products to ensure the correct levels of antibacterial disinfectant and continue to maintain a sufficient stock of these products.
All non-essential items have been removed from rooms and public areas have been removed – this reduces the amount of surface areas which can potentially harbour germs. Please bear with us if the hotel is not looking its usual self!
We have appointed a designated team to ensure that these hygiene measures are consistently maintained and have created detailed cleaning schedules and checklists to ensure that all team members maintain these cleaning policies, procedures and standards.
STAY OVERS
When booking your stay, we will talk you through the process of what we have in place and will be happy to assist with any queries or concerns;
Before you arrival
· We will confirm your expected arrival time to ensure a smooth check-in process and limit any cross over with other guests.
· We will have thoroughly deep cleaned each room, and used a disinfecting mist in the room, as well as ensuring that the room has been well ventilated for a minimum of 2 hours per day.
· Where possible, we will endeavour to allow a 24 hour interval between departure and arrival of guests in any particular room.
· All key cards will be thoroughly disinfected when returned and again before they are given to a guest.
· Linen will be washed at higher temperatures using disinfectant detergents.
When you arrive
· Hand Sanitiser points and sanitising stations will be clearly displayed in all public areas.
· Public areas will be sanitised through increased cleaning and the use of disinfecting mist.
· Reception desks will be equipped with protective screens between the guest checking in and our Front Office team.
· All Front Office team members will be equipped with relevant PPE as required.
· We will aim to keep any contact to a minimum, this can be achieved by using contactless payment methods. Our payment terminals will be disinfected on a regular basis.
· We will be happy to facilitate any takeaway meals or room service on request.
· Any receipts or documents will be sent via email.
PREVENTION
Preventative measures which we have taken at the property include;
· Team members temperatures will be recorded on entry of the building before each shift, anyone with a temperature above 38°C will not be permitted to attend work until they have been cleared by a certified health professional.
· Promoting regular hand-washing – we have displayed posters throughout customer and employee toilet facilities, which encourage good handwashing techniques using soap and water.
· We encourage proper cough and sneeze etiquette, using tissues which are immediately disposed of in closed top bins.
· Social Distancing will be enforced throughout the property – with furniture rearrangement and room layouts being adjusted to achieve social distancing.
· All team members will be equipped with relevant PPE such as gloves, face shields, face masks and aprons, as appropriate for their role, and will be required to carry out recommended hand washing techniques at timed intervals, and using hand sanitiser regularly between hand washing.
· We have prominently displayed alcohol-based hand sanitisers in various areas such as Hotel Reception, Bar & Restaurant, lift lobbies, carpark entrance to the hotel. We refill these dispensers regularly and ensure that they are never emptied.
· We provide paper tissues and have closed bins for disposing of used tissues at all hand wash facilities.
· Regular cleaning and disinfectant of public areas – focusing deep cleaning on areas such as elevators, bathrooms and common touch points such as door handles and taps.
· Only permitted areas of the hotel will be open for business, and following the Government's Roadmap for Reopening, we will resume business on a phasedbasis, functioning only at a limited capacity in the initial stages.
STAY SAFELY TEAM
We have designated Compliance Officers at our property who have undergone specific intensive training in relation to Covid-19. These compliance officers will work with Management and team members to ensure that all policies and procedures are adhered to and will be equipped with the knowledge on how to deal with a potential case of Covid-19.
Our Compliance Officers, alongside representatives from each department will form a "Stay Safely" Team, who will work around the clock to ensure that each Department meets specific outlined requirements in maintaining ultimate hygiene and sanitisation levels. The "Stay Safely" team will work to coordinate and oversee all policies and procedures relating to the prevention of Covid-19 throughout the property and will work with all other team members to ensure that all tasks and responsibilities are completed and fulfilled.
As part of our reopening procedures, all team members will be fully inducted before returning to the workplace to ensure that they remain knowledgeable on Covid-19 and what is expected by the company in relation to our policies and procedures across the property surrounding the virus. As part of this process, team members will be fully trained on carrying out and maintaining increased hygiene standards.
We have identified a team of management and staff to handle all issues in relation to COVID-19 and contact numbers have been shared internally. This team will ensure appropriate communication and coordination between different departments (front desk, housekeeping, management, night porters and food and beverage staff).
MANAGEMENT
As a Property and as a Group, The Glashaus Hotel and Comer Group Hotels are continually reviewing information and updates provided by the relevant authorities including the Irish Government, HSE, Health Protection Surveillance Centre (HPSC) and the Department of Foreign Affairs. We are dedicated to complying with all recommendations and regulations so that we are secure in the knowledge we have done everything possible to keep you safe.
We have conducted risk assessments throughout the property and will continue to reassess any potential risks at the property, immediately implementing any necessary changes to policies and procedures.
We are continually providing updates and refresher training to employees to ensure that our teams remain knowledgeable and aware of their responsibilities. We trust that our team members understand the importance of assisting in the fight against Covid-19 and that each individual will do their utmost to carry out their duties in complete compliance with company policies and procedures.
We continue to look forward to resuming business as usual and welcoming our guests back to the Glashaus Hotel and wish to sincerely thank you for your co-operation and support during this challenging time.